Live, expert instruction. Virtually anywhere.
TPC Training is proud to extend our legacy in instructor-led maintenance training to web-based learning with our new, industry-first Live Online seminars.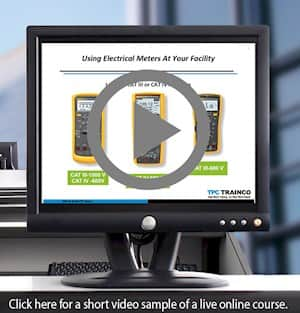 Overview
Live Online courses combine the personalized attention and instructor expertise of our classroom seminars with the convenience and cost savings of online training. These are NOT one-size-fits-all Powerpoint presentations — they're energetic, dynamic virtual classrooms designed to keep learners engaged.
Features include:
All course materials delivered electronically in PDF format in advance of the class
Direct interaction with the instructor, with ample time for Q&A
Virtual breakout sessions to collaborate directly with other participants
Polls and quizzes to increase engagement and retention
When is Live Online training the right choice?
Our comprehensive two-day local seminars, offered more than 2,000 times each year in 150+ locations, are still the best choice for most training needs. But Live Online courses offer the advantages of:
Easy access through virtually any web connection, eliminating travel hassles
Lower cost at an industry-leading $395 per day of expert instruction
Enhanced interaction through polls, quizzes, and virtual breakout sessions
Technical Requirements
To ensure the widest possible availability for our live online training, we deliver it on the GoToTraining platform, accessible to virtually anyone with a browser and a good internet connection. Click here to view the full technical requirements.
No-Risk Registration and Money-Back Guarantee
Not sure if live online training is right for you or your team? Register without risk and enjoy free cancellation up to 72 hours prior to the scheduled seminar. And as with all of our seminars, if you're not completely satisfied, simply notify us in writing at customerservice@tpctraining.com. We'll promptly refund your payment.
Tailored Live Online Training for your Team
Want private online training for your company or facility? For groups of seven or larger, we can deliver our Live Online courses with the timing and content tailored to your needs. This offers the advantages of reduced cost, flexible scheduling, and tailored content. It's also ideal for overseas facilities or geographically dispersed teams.
Contact us at sales@tpctraining.com or 1-877-978-7246 to explore this option.