TPC Training provides intensive two-day training seminars on programmable logic controllers in more than 100 cities, making us the industry's most experienced PLC programming training provider.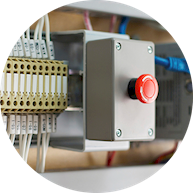 Our interactive live instruction format is ideally suited to PLC training, because we bring PLC hardware and software into the classroom for a hands-on learning experience. And our small class sizes provide ample opportunity for students to get tailored input on specific PLC applications.
PLCs for Non-Programmers is a two-day seminar that provides hands-on training in reading and interpreting PLC ladder logic, troubleshooting PLC systems, and fixing common PLC problems.
PLC Programming & Applications is a two-day seminar that builds on PLC basics to give students the ability to edit or create new PLC solutions for their specific work applications.
Why choose TPC Training for programmable logic controller training?
We are the industry's most experienced PLC training provider
Our hands-on PLC training format help students to retain knowledge by putting it into practice
Our two-day intensive seminars get workers back on the job quickly to apply what they've learned.
Our live instruction allows students to discuss the needs and equipment in their own workplace
All of our PLC classes are also available as on-site training at your facility.
All of our courses are backed by our No-Risk Registration and Money Back Guarantee.
Browse PLC Classes